How to Optimize Your Content in 4 Easy Steps (for Free!)
How do you ensure that your content is found in a sea of web pages by the right readers? Consistent and strategic content optimization helps push your message.
Guest post by Natasha Grash of InboundWriter
In a world where the Internet rules and virtually every business produces web content in some way, shape or form, it's not easy to stand out. To further complicate matters, Google and Facebook have been cracking down on content duplication and overall content quality these days, and for good reason – we're experiencing information overload!
So, how do you take measures to ensure that your content is found in a sea of web pages and by the right readers?  Consistent and strategic content optimization is a key ingredient of a successful content marketing strategy. That means being deliberate about your phrasing, content structure, keyword placement, and reader targeting every time you write.
If it sounds daunting, it doesn't have to be!  There are tools that can that can make the process very simple and intuitive. One application that can really help you is called InboundWriter. Below we walk you through 4 easy steps you on how you can leverage InboundWriter to optimize your content as you write.
1 – It's all in how you word it.
When you log in to your InboundWriter web editor, you'll be asked for 3 focus terms (keywords) that indicate what the content you're developing will be about.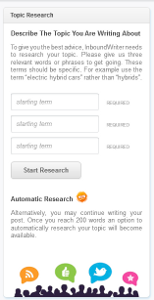 You may have done keyword research already – see earlier Textbroker blog post on keyword research best practices – but if you haven't, that's ok, too. Simply enter what you think your terms should be, and InboundWriter will provide a list of related popular keywords, ranked on a 5-star popularity scale.
Or, if you'd rather the article speak for itself, that's also an option. When you have 200 words of text entered, you can have InboundWriter perform automatic keyword research based on your content. This will show you what keywords are currently dominant in your piece and you'll also see their popularity ranking, which helps you determine whether (and how) you should adjust your piece.
Once you've hit "Start Research", here's the screen you'll see:
2 – Strategy, strategy, strategy.
The keyword rankings in the sidebar, as well as your document score in the upper left, are based on overall search popularity on search engines. This enables you to gauge how findable your content is shaping up to be along with providing phrasing options that you may want to consider to increase your score.
The rankings and score is, however, relative as it is based on the strategies you set in the application. You can change the settings to focus on keywords with the least amount of competition, or cater to a specific education level, and much more. Just explore the My Strategies area of the application: Search & Social, Advertising Strategy, and Reader Targeting, to find what combination of settings suits you best.
3 – Refine what you have.
Now that you have your initial content draft created and your desired strategy set, you can review the InboundWriter feedback within the web application to optimize your findability score. If your score is below 70 or so, you should really think about incorporating some of the suggestions that appear in your document. These might involve adding more references to your focus terms, moving focus terms closer to the beginning of the documents, etc.
4 – Get with the Buzz.
Once you've created at least one document, you can leverage InboundWriter's newest feature called Topic Buzz. Topic Buzz is very useful during your pre-writing and research phase. In essence, what happens is our proprietary back-end engine mines Twitter for popular articles being circulated that are expressly related to the content you've saved in InboundWriter. You get a feed that displays the article, link, its popularity ranking (scale of 1 to 5 hot peppers), hashtags used with the article on Twitter, and the Twitter handle and Klout score of the profile that's circulating the content. Note that Topic Buzz is specifically looking for article links and web content, so you're not getting basic Twitter chatter in this feed, but actual reading recommendations.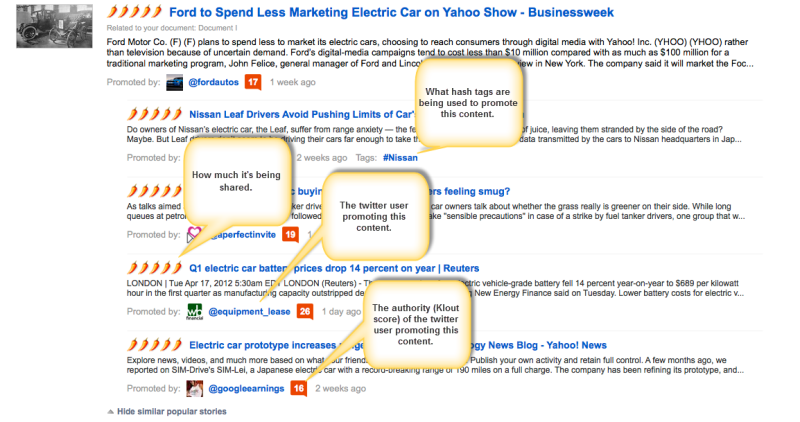 Since Twitter has become a de facto buzz barometer, this is a great new way to do topic research and keep yourself informed on the state of affaires related to your writing topics. It also keeps you apprised on how others are promoting related content, which might give you ideas!
So there you have it – you now have a way to consistently optimize your content as part of your natural workflow.  The best part is that it costs you nothing to sign up! With the free subscription, you get to optimize eight documents per month via the InboundWriter web-based application and unlimited post optimization (with an advertising badge) when you use the WordPress plugin.  For higher volume users and WordPress users who prefer not to display a badge, you can upgrade to a premium account for $19.95 per month.
Have you tried the app yet?  Share your experience with us by commenting below, on Facebook or Twitter.